By: Susan Sprout
Find out what's underfoot with NPC member and environmental educator, Susan Sprout! Catch up on past issues of Underfoot: Introduction & Bloodroot, Trout Lily & Coltsfoot, Blue Cohosh & Dutchman's Breeches, Ground Ivy & Forget-Me-Nots, Goldthread & Wild Ginger, Common Mullein & Sweet Woodruff, Aniseroot & Butterfly Weed, Myself , Jewelweed & Soapwort, American Pennyroyal & Great Lobelia, Boneset & Common Ragweed, Pokeweed & Blue Chicory, Prickly Cucumber & Wintergreen, Beech Drops & Partridge Berry, Pipsissewa & Nostoc.
Witch Hazel
When English colonists were introduced to this native shrub, they called it Witch Hazel. Hazel for the familiar trees they left in their homeland and Witch from the Anglo-Saxon root "wy" that means to twist or bend. Right now, this amazing deciduous shrub is blooming!
Look for their yellow fall leaves on thin branches in moist, rocky woods. I saw lots along Highland Lake Road. But hurry. Their egg-shaped, coarsely-toothed leaves fall when they bloom, and you can get a better view of the four pale yellow, strap-shaped petals.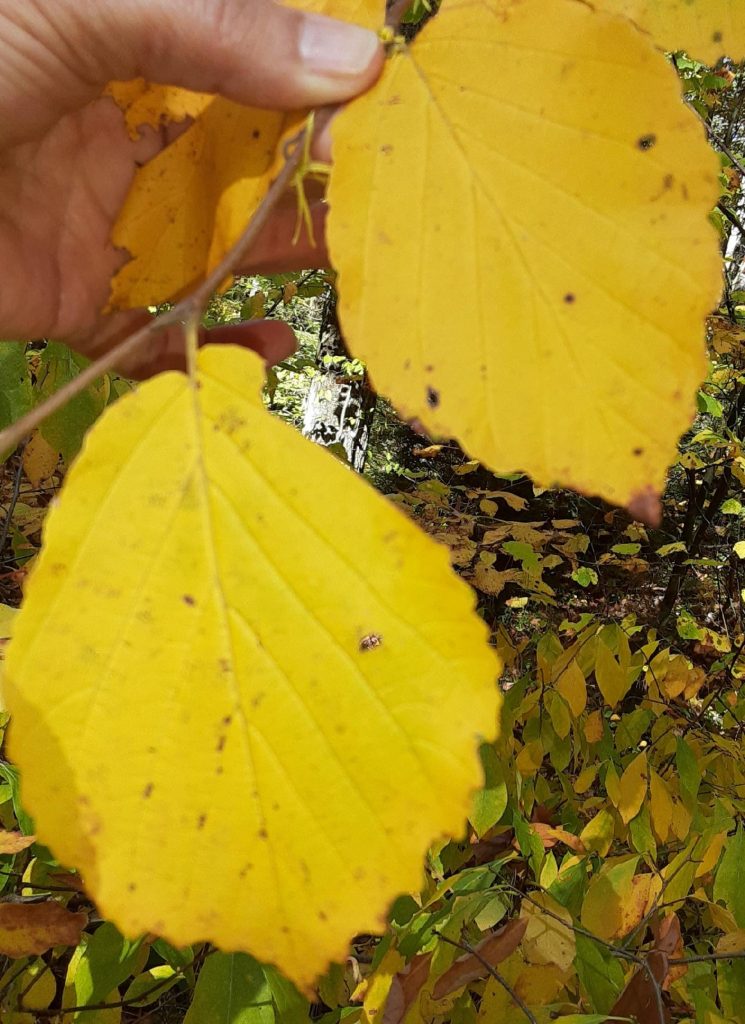 The flowers occur in bunches of three below the leaves. Sometimes, last spring's seed capsules are still firmly attached near them. After this autumn's blooms are pollinated by a variety of insects, fruit grows during the following spring. Inside the capsule two chambers develop, each with an individual seed. When mature, the seeds are forcibly shot out as the woody capsule splits open. The noise it makes gives the shrub another common name – Snapping Hazel.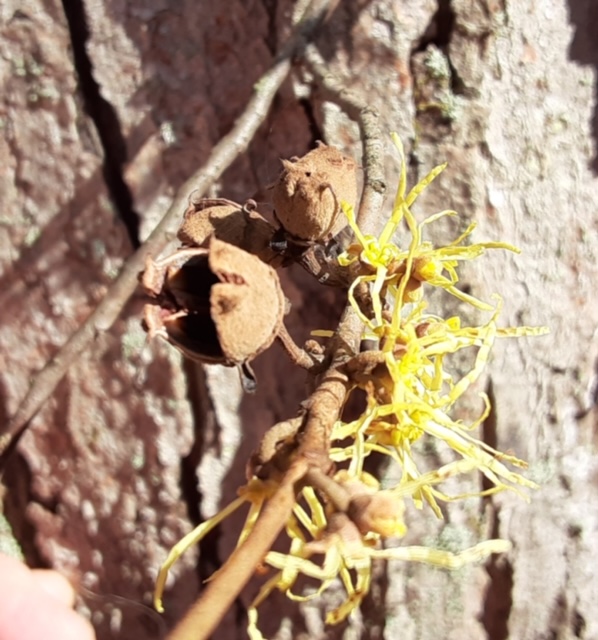 The seeds will lie dormant where they land for two years before germinating. My bottle of distilled Witch Hazel is sitting on my desk right now as a reminder of the wonderful medicinal uses of the tincture made from its leaves and bark. Astringent and cooling on bruises, in cosmetic preparations, and ointments for hemorrhoids. There are four native species in America. Our local species is Hamamelis virginiana.