As Todd's picture demonstrates, the 2020 instream construction season for the Northcentral Stream Partnership looked a little different than in the past. Sure, there were hardhats and ear protection, but this year there were also masks. The Conservation Districts, PA Fish and Boat and PA DEP worked to get the logs drilled and rebar in, but there weren't any volunteers helping out.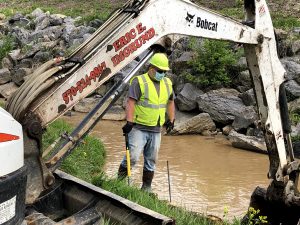 We changed things up so we could still work to stabilize stream banks and improve local water quality. And we improved local water quality on over 2 miles of stream at over 9 different properties.
Changes were made to reduce the possible spread of COVID-19 and to try and keep everyone safe. However, the stream partnership worked together (like they always do) to figure out how to work with those changes and still get streambanks stabilized.
Given how many things didn't go as planned this year, everyone in the stream partnership is amazed at how much we got done. There were hiccups along the way. One project had 2 skid steers break down and a track come off the third. There was also the project that a boulder (the size of a Mini Cooper) was discovered while putting in a stabilized stream crossing. However, those are "normal" hiccups that happen in some form every year.
This year projects have been completed on:
Sechler Run, Danville, Montour County (aka the Geisinger project!)
Turtle Creek, Lewisburg, Union County
Briar Creek, Berwick Columbia County
Schwaben Creek, Herndon, Northumberland County
Beaver Run, Danville, Montour County
Turkey Run, Mifflinburg, Union County
Limestone Run, Milton, Northumberland County
Mauses Creek, Montour County
West Branch Chillisquaque Creek, Montour County
The list of interested landowners on agriculturally impaired streams continues to grow. We'll have a full schedule in 2021 (fingers crossed) and have plenty of planning and design work to keep everyone busy this fall and winter.