By: Susan Sprout
Find out what's underfoot with NPC member and environmental educator, Susan Sprout! Catch up on past issues of Underfoot: Introduction & Bloodroot, Trout Lily & Coltsfoot, Blue Cohosh & Dutchman's Breeches.
Ground Ivy
Look! Creeping across your lawn, into flower beds, under trees in the woods, along trails! It's everywhere, and it's NOT an ivy.
Give it an inch, and it wants to be a ruler! That is a hint. Of course…it's a species of mint, complete with square stem, opposite leaves and a lovely purple flower.
Known as a popular folk remedy from the earliest times, ground ivy ruled as a brewing herb and was brought to this continent for its ability to flavor, clarify, and preserve ale. Common names of Gill-over-the-ground, Alehoof, Cat's foot, and Creeping Charlie all speak to the uses and demeanor of ground ivy. Remove a leaf and sniff the pungent minty odor, a sure sign you have identified it correctly.
Forget-Me-Nots
Bright-eyed and bushy-tailed? No. More liked scorpion-tailed! The stem containing flower buds is actually curled around like a scorpion's tail which gives Forget-Me-Nots another of its common names, Scorpion Grass.

As each flower matures and blooms, the stem unfurls. You may also see on the close-up below the hairs that cover the stems, leaves, buds, and calyx surrounding the blossoms. Their surface cells have hard mineral deposits of calcium carbonate and silicon dioxide that create the coarse hairs and are responsible for the skin irritation some people get from touching them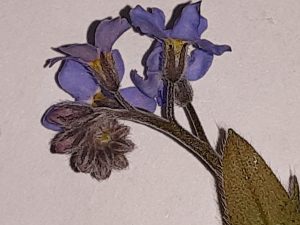 There are 150 species of forget-me-nots in the world. We are lucky to have 8 different ones living in PA. Enjoy their bright blue and yellow flowers. They bring a smile when I see them budged up against the rhododendrons in the springtime. They bring a frown when I have to pick off their hitchhiker seeds from my hiking socks in the summertime.
Susan Sprout is a retired school teacher who continued teaching after retirement at Montour Preserve helping teachers of handicapped students with nature walks, at the National Shell Museum as a curator of the fossil collection, and as teacher of Shell Studies at the local school on Sanibel Island. Based on her love and study of plants, she does living history presentations of medicinal plants used by Native Americans, colonial immigrants, and people living during the Civil War. Both she and her husband, Richard, serve as cannoneers with Thompson's Independent Battery C PA Light Artillery. Sue has served on the Northcentral Pennsylvania Conservancy board in the past. The Sprouts have been Conservancy members for 29 years.