By, Susan Sprout
American Dittany, Cunila origanoides, is a perennial plant in the Lamiaceae or Mint Family. "American" is attached to its common name because there are other plants native to Europe with the same name. The second part of its scientific name indicates that this plant resembles Oregano. Not too surprising, as quite a few of our cooking herbs are classified in the Mint Family as well. In fact, along with square stems and opposite leaves, aroma is one of the BIG family traits. Basil, Sweet Marjoram, Sage, Lemon Balm. Rosemary – to name just a few. There are lots – that are mostly native to other continents.
I accidently became acquainted with American Dittany almost forty years ago as I tried cliff climbing near a creek. My boot slipped, and I grabbed the nearest rocky ledge. My reward was two fold: 1) I did not fall; 2) I was suddenly blessed with an amazing aroma from the plant growing nearest to my nose. Through all the following years of visiting that cliff and those plants, I have become aware of the decrease in their population. When I climb up to find them, I have to look and step really carefully in order to get photos. They now appear smaller than the reference books' height of eight to sixteen inches. I missed their blooming time this year occurring from August to October. None of the plants I saw had their tiny, two-lipped purple flowers or the dried remains of them. Maybe they didn't have the stored energy in their fibrous root system to reproduce.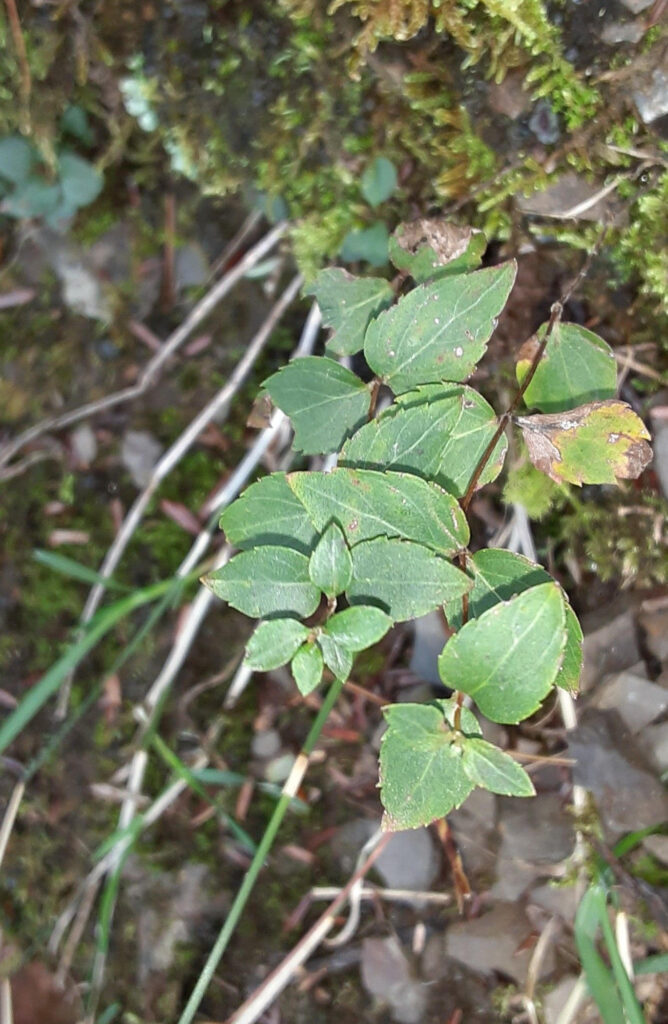 American Dittany or Stone-mint or Frost-mint is native to this continent from New York to Florida and west to Texas and Illinois. It tends to grow in dry forests and in the thin soils of rock outcrops, especially where vegetation is sparse. The serrated, lance-shaped leaves, dotted with oil glands (the scent), are opposite and stalkless, flowering from their axils. The wiry stem is brown and appears woody. When rolled between my fingers, I can feel the bumps that make it "squared". In some resources, American Dittany is dubbed as a "sub-shrub" which is a dwarf, woody plant. I have not yet witnessed the reason this plant received a common name of Frost-mint. Evidently, when the watery sap pushes out at the bottom of a stem that has been cracked open by a hard freeze, it freezes into ribbon-like projections around the base looking like "frost flowers"! I would love to get a photo of that! I may have to let that task to someone younger and more agile. At my age, I probably shouldn't be climbing around on cliffs in the slipperiness of winter.