"This land is as much a part of our family as our children and our animals – we feel honored to have the chance to be its stewards…."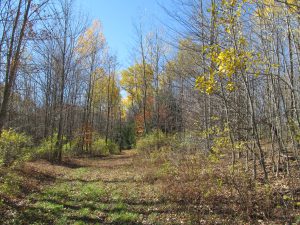 When Lou and Wanda decided it was time to move their family to Tioga County and transition from furniture restoration to sawing lumber for furniture making they choose to invest in a property they could manage and steward. After several years they reached out to NPC and donated their first conservation easement to NPC. For the last 12 years NPC has visited the property at least once a year to ensure the conservation easement's terms are being followed.
This year the visit happened after the fall foliage's peak. There were more leaves on the ground than on the trees. Walking on the riding trails around the property was a crunchy endeavor today.  The blue jays didn't seem to mind the noise, but did flit away when I stopped walking.