At the end of the month, the National Park Service is turning 100 years old.  While your support of NPC hasn't resulted in any acreage being added to National Parks it has resulted in over 6,000 acres being added to Pennsylvania's State Forests, State Game Lands, some acreage going to a municipal park, and another conservation organization maintaining a property for public recreational use.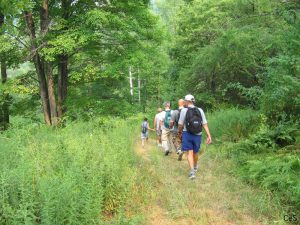 Another property NPC's members helped get into public ownership was the Fisher Acquisition. NPC took title in 1995 to the 79.7 acre parcel in Lycoming County.  This property had once been a farm and its forest and fields provide wildlife habitat, protect the watershed and help retain the pastoral character of the Pine Creek valley.
The property is just across Pine Creek from the village of Cammal.  It is surrounded on three sides by State Forest Land, including the Miller Run Natural Area. The property also has frontage on Pine Creek and is within the view of both PA Route 414 and the Pine Creek Rail-trail. The property also abuts Trout Run, a major tributary of Pine Creek.
The Fisher Tract was transferred to DCNR in 1996.