By, Susan Sprout
A volunteer plant grew near my woodshed – unexpected, but not unappreciated! It appeared over a month ago. I had to wait for it to grow bigger before introducing it to you and getting the photos that would capture its unique physique! Our native White Vervain (Verbena urticifolia) is a member of the Verbena Family, along with about 3,000 other species, mostly from warmer climates. Teak is one of them, prized for its beautiful and durable wood. I have always admired White Vervain and was happy to find it growing nearby. These annual or perennial plants usually choose moist fields, meadows, thickets or waste ground. Well, nothing much grows there except pennyroyal, and there is a downspout nearby. I guess that works in its favor.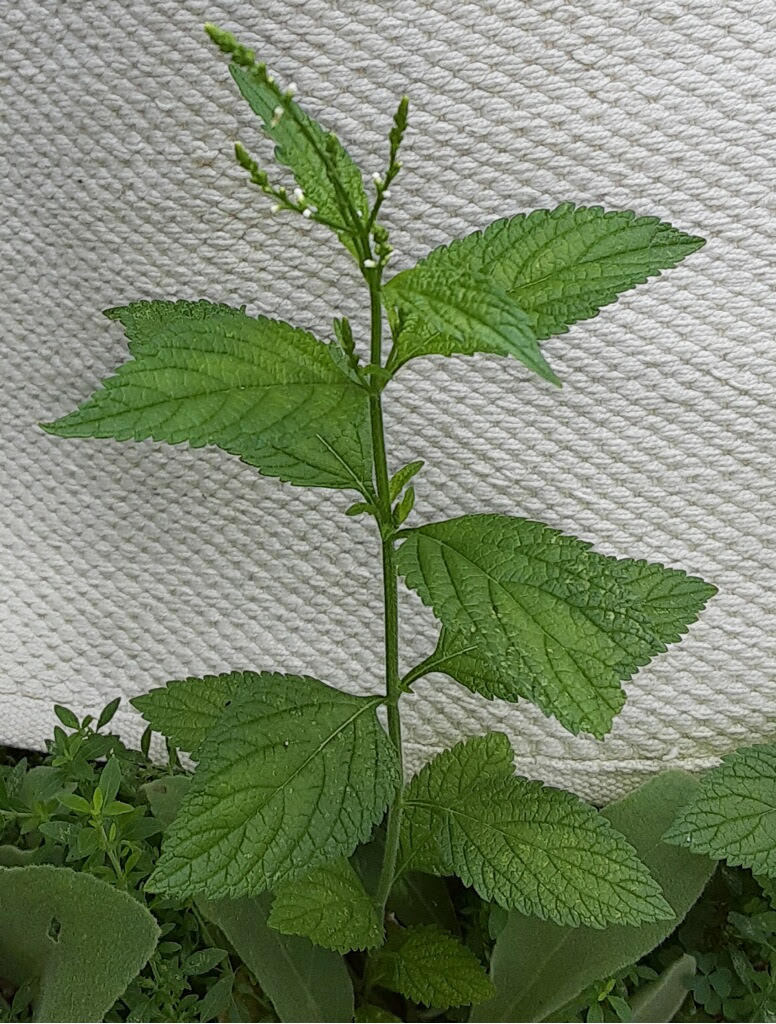 White Vervain plants are compact at their start. When their small, tight, flower spikes appear, the magic begins! Their very slender flower stems begin to stretch out in all directions. The buds on them move further and further apart from each other until they look like little bugs sitting on thin branches. The really tiny white flowers open willy-nilly, here and there, as they mature. I pulled off one of the pollinated flowers and rubbed it gently between my fingers to tease out the four nutlets inside that will create the next generation of plants there. The flower stalks definitely stand out as an identifying characteristic of White Vervain. But, the rest of the plant needs to be checked out, too. It can grow from two to five feet tall, has a hairy, square stem, and stiff, opposite leaves that are doubly-serrated and look like the blades on a steak knife. If you want to look for this plant, it should be flowering from July to September in Pennsylvania. Its close relative, Blue Vervain, can be found inhabiting similar habitats, but has stiff pencil-like spikes of small, blue flowers that appear in a "more organized" fashion resembling a candelabra!
Medicinally, Vervains are astringent, or drying, and have been used for millennia crushed up and applied externally to wounds, poison ivy sores and other skin complaints.