By Susan Sprout
Don't you just love the spring? Migratory birds passing thru or staying, plants poking up, leaf and flower buds plumping and ready to pop! I cannot help getting excited at the birth and regrowth of the plants and trees here in Northcentral Pennsylvania. My curiosity about plants, their names, and lifestyles (how they live and survive) doesn't just stop when I leave Pennsylvania. Oh, no, it probably gets worse – so many new ones to discover when traveling! I would like to introduce you to a new one with the remarkable "super power" of greening up again after being dried up and crunchy.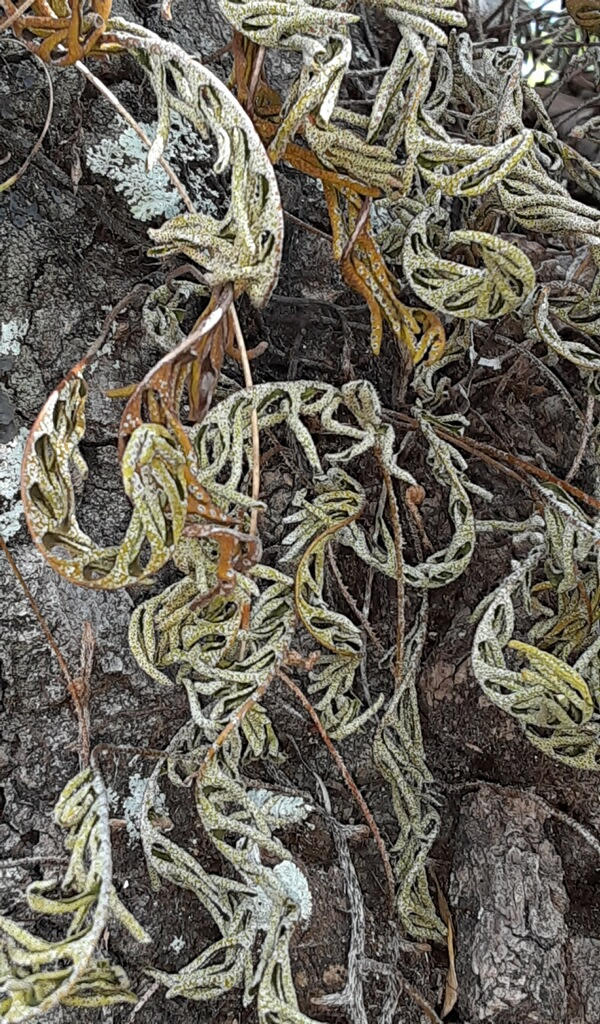 Appropriately named, Resurrection Fern (Pleopeltis polypoidioides) is one of as many as 1300 different species of plants that can tolerate extreme desiccation of their tissues during the absence of rainfall, full-blown droughts, or totally freezing. New studies are identifying more of them. Researchers will undoubtedly continue learning from these plants' genetic make-up how the molecules they create in normal growth are used against dehydration-induced stress. With fluctuating weather patterns creating changes that damage many food crops, knowledge of how the sugars and lipids of resurrection plants keep them alive and growing may be useful in some way. One protein, dehydrin, allows for the folding up of cell walls in a way that can be easily reversed.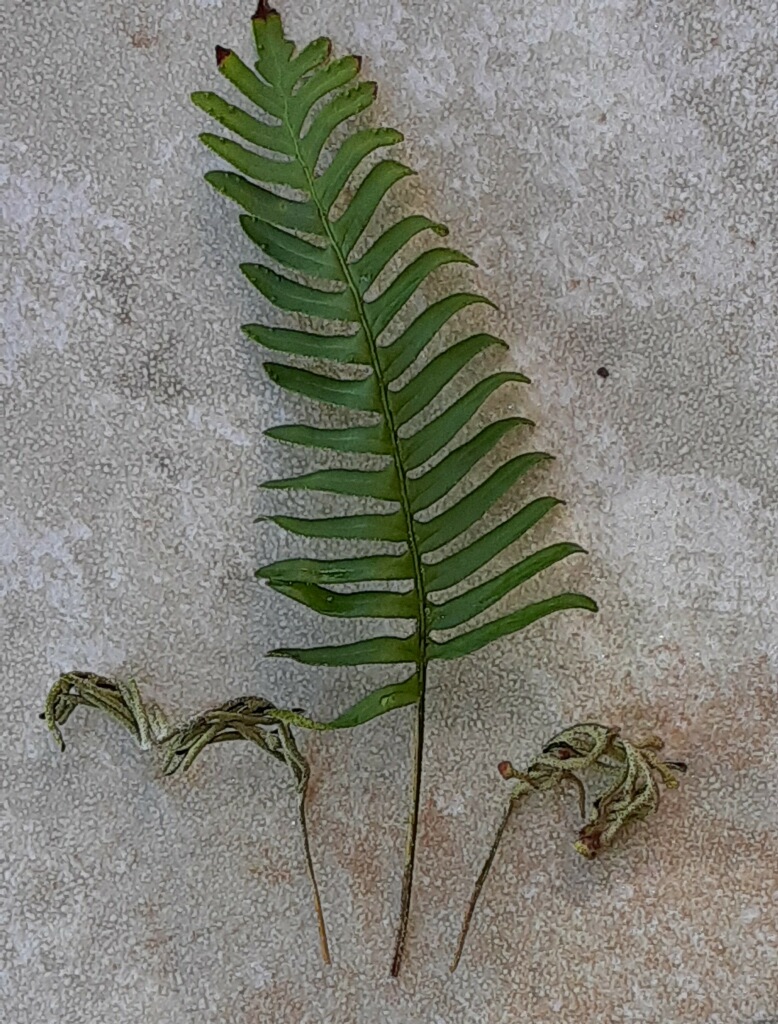 The Resurrection Ferns I found were a grey-brown, curled-up mass on the huge spreading branches of a Live Oak In Fort Myers, Florida. They are called epiphytes or "air plants" and live on tree bark in the south, starting in Virginia. They are not considered parasitic because they get their nutrients for growth from dust and rainwater on the outside of the tree bark. Sometimes, lichens and moss colonize tree branches first before the tiny air-born spores of the fern move in and start to grow. Careful not to detach the whole plant, I pulled off three dead-looking fronds for a closer look and decided to experiment with one of them by placing it in a bowl of water. Checking throughout the day as the frond slowly unfurled, I noticed that the undersides of it had been curled up over the top, exposing them first to any rainwater. Smart! After being in water overnight, it was totally back to its soft, green fern leaf self. You can see the results on the photo I took.
This species of Resurrection Fern is a neotropical native of the warmer parts of the Americas and southern Africa. It does not grow in Pennsylvania currently. It did and it may again, but not at this time.
Fossil remains have been found dating it back to about 300 million years ago. One reference called its existence "a triumph of adaptive evolution." It can tolerate the loss of 95% of its cellular water content and exist that way for many years, then be back to normal after a few hours of rehydration. Amazing!