By: Susan Sprout
Find out what's underfoot with NPC member and environmental educator, Susan Sprout! Catch up on past issues of Underfoot: Introduction & Bloodroot, Trout Lily & Coltsfoot, Blue Cohosh & Dutchman's Breeches, Ground Ivy & Forget-Me-Nots.
Goldthread
Exploring along the roads near Canyon Vista in Sullivan County, you can find lots of bogs – large hemlock trees above and mossy rocks and logs below. I found goldthread growing there, woven in amongst the moss. It is low-growing with three leaflet evergreen leaves that make it look like a miniature buttercup plant. They are both members of the same Ranuculus or buttercup family.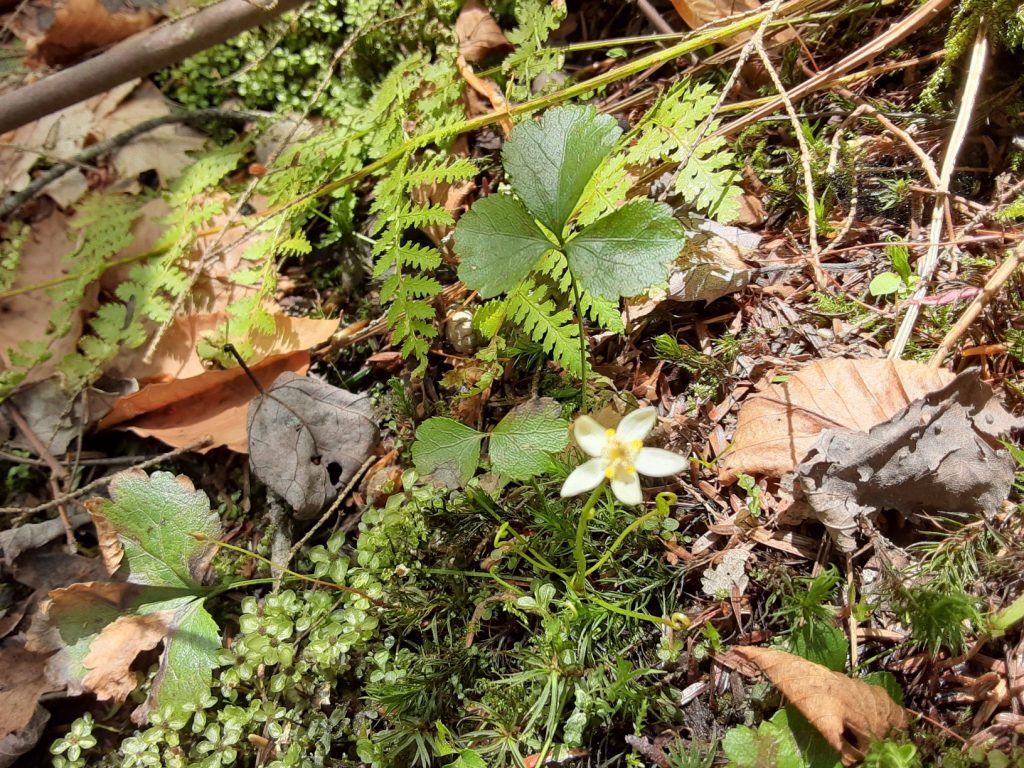 By gently teasing apart the moss it is growing in, you can find bright yellow rhizomes which explain its common name. Single, erect stalks carry a single, star-shaped white flower with five to seven petals. People used to make a gargle for sore throats and mouth ulcers out of this plant because it is very bitter and astringent. And that gave it another name, cankerroot!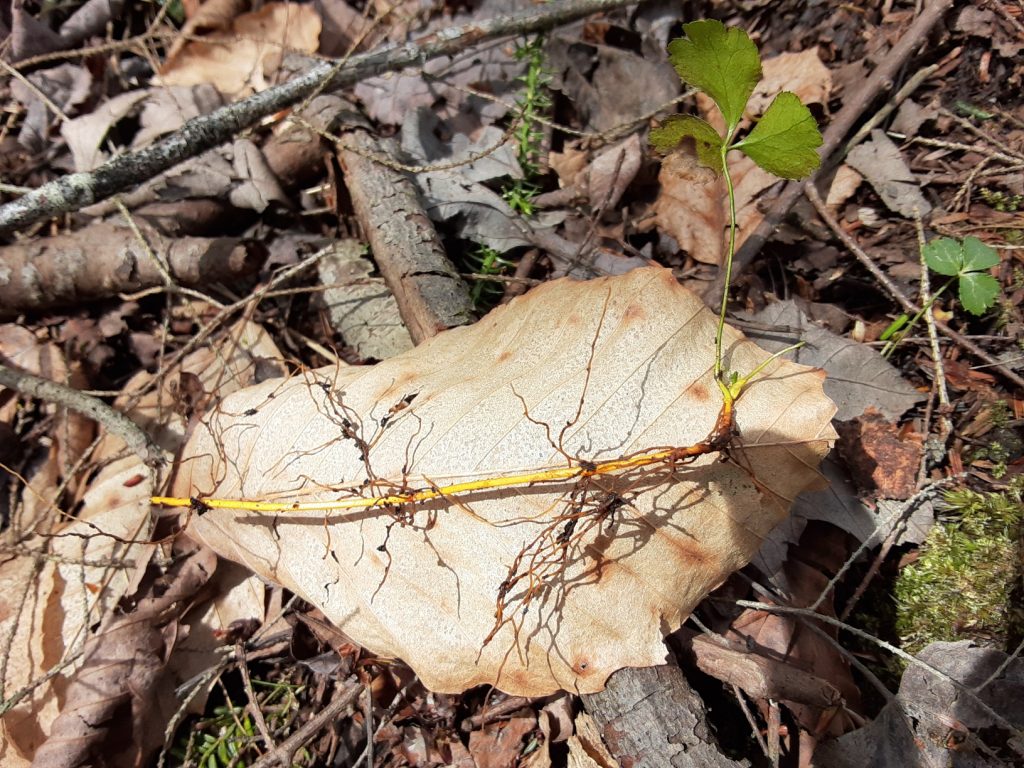 Wild Ginger
This native plant is found in the rich soils of shady, moist woods and floodplains. A colonial perennial, it grows low to the ground and puts out double heart-shaped leaves that are about five to six inches across.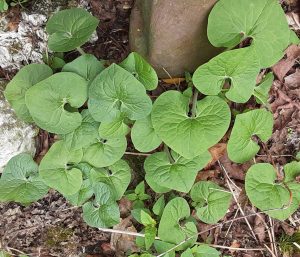 One of its identifying characteristics is a brownish, bell-shaped blossom, hiding down under its leaves. You have to dig down through the old leaves and forest duff to find it blooming low between the woolly leaf stalks. It is well camouflaged at only an inch wide with three pointed lobes. Check out the creeping rhizome from which the plant grows.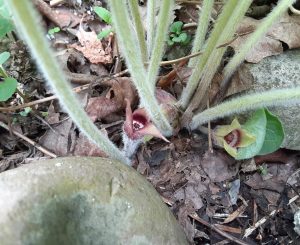 It has the distinct taste and smell of ginger similar to the commercial ginger grown in tropical regions. Both Native Americans and colonists often used the pungent root to flavor food or tea and to disguise spoiled meat. Studies have shown that using the plant to relieve gas pains may be valid.
Susan Sprout is a retired school teacher who continued teaching after retirement at Montour Preserve helping teachers of handicapped students with nature walks, at the National Shell Museum as a curator of the fossil collection, and as teacher of Shell Studies at the local school on Sanibel Island. Based on her love and study of plants, she does living history presentations of medicinal plants used by Native Americans, colonial immigrants, and people living during the Civil War. Both she and her husband, Richard, serve as cannoneers with Thompson's Independent Battery C PA Light Artillery. Sue has served on the Northcentral Pennsylvania Conservancy board in the past. The Sprouts have been Conservancy members for 29 years.