By Susan Sprout
Growing up, I was lucky to have two Eastern hemlock trees in my yard, much taller that our two-story house. One had lower branches for easy climbing; the other, with high branches, provided places for swings. Kid heaven! I learned the meaning of words like "evergreen" and "conifer" from them.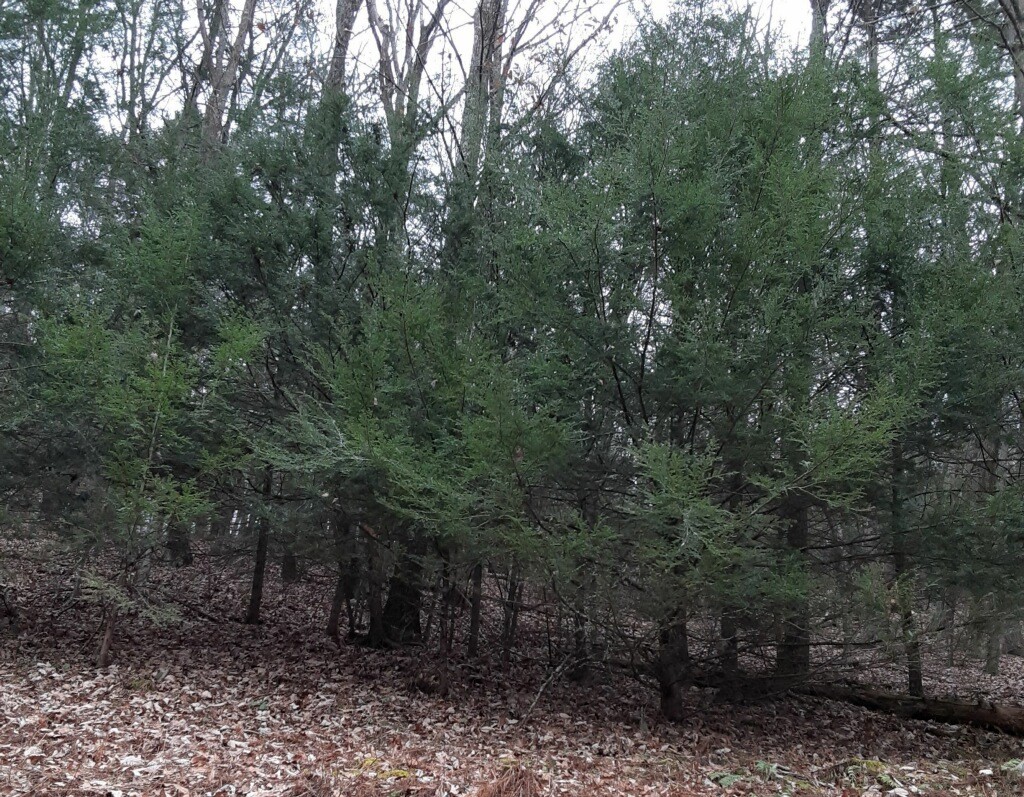 As I travel the back roads near my home now, I try to imagine what an entire forest of trees resembling the current state champion hemlock in Cook Forest State Park would look like. It is 125 feet tall, 5 feet in diameter and has a spread of 70 feet. Penn's Woods was covered by magnificent old-growth forests of pine, hemlock and different kinds of hardwoods at the time of its settlement similar to this state champion tree. The loss of these giants is well-documented in histories of the lumbering industry in this area. I still like to see them in my mind, dominating the cool, moist, north-facing slopes.
Unlike many trees, hemlocks grow well in shade with their long, slender, horizontal branches drooping to the ground. Half-inch long green needles with two white stripes underneath run up both sides of the bumpy twigs. Cones are light brown and oval with short stalks holding tight to the ends of branches. Although heavy cone producers when they reach fifteen years, the life of their seeds is low due to infertility, lack of even temperatures, and the moisture required for germination. Hemlocks are very slow growers and may only get an inch and a half in height in their first year with a root of one-half inch, making them very sensitive to the drying effects of higher temperatures. They are considered fully established at three to five feet tall. Seedlings seem to grow well in rotten logs, stumps, and mounds that provide a better moisture supply, many times creating pure stands of hemlocks the same size and age.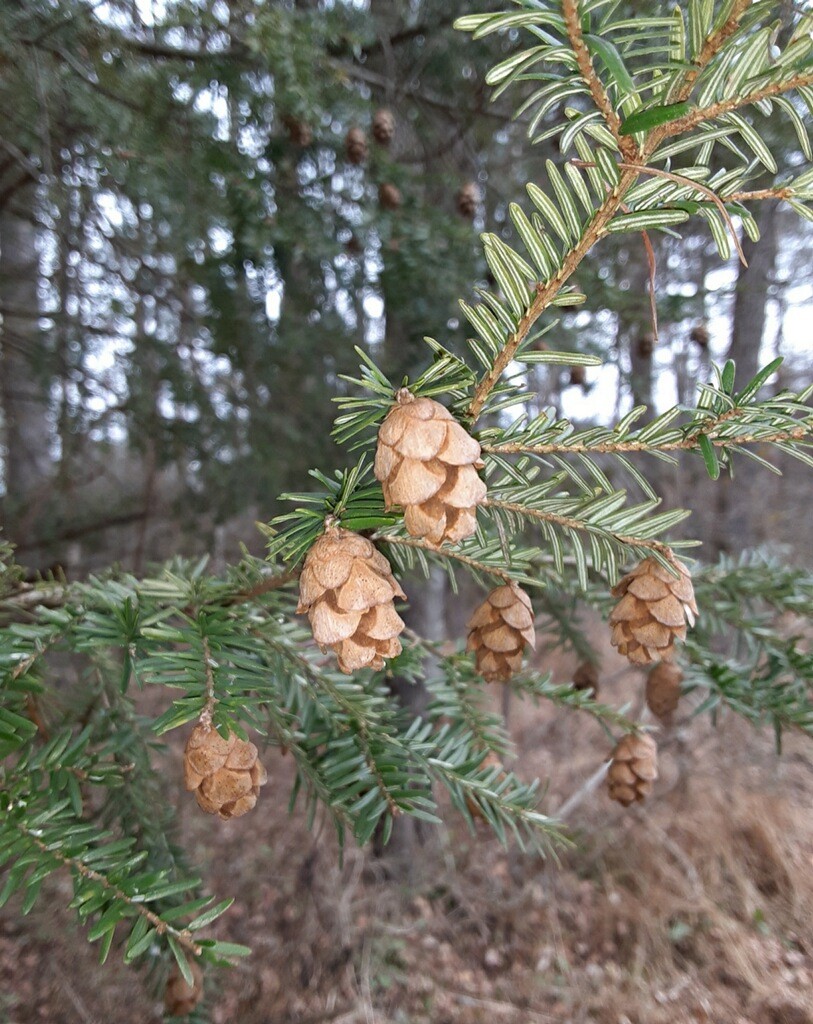 These native giants are under attack by a very tiny insect that attaches itself under the small leaves along their stems and causes a loss of nutrients to the whole tree. Hemlock Woolly Adelgid females lay white, woolly masses of sacks containing from fifty to three hundred eggs in two generations per year. These insects insert their long, sucking mouthparts directly into the food storage cells of the tree which responds by blocking off the tiny wounds to disrupt the outflow of sap. This, in turn, cuts off the flow of nutrients to the needles and twigs, leading eventually to their death. Dieback to major limbs can occur within two years and generally progresses from the bottom of the tree upward. Originally introduced from Japan in the 1950's, Hemlock Woolly Adelgid has spread to eighteen eastern states from Georgia to Maine and now covers nearly half the range of native hemlocks, appearing to spread about ten miles per year.
We need our hemlocks because they make the damp, cool, shady environment required by many of the forest plants. They also keep it cool for small streams and their inhabitants. They provide wonderful shelter and nesting sites, nooks and crannies for dens, and food in the form of seeds and greens for browse. As young landscape plantings, they soften the rigid outlines of houses and sheds and cut be trimmed to create hedges. And, after all, they are our Pennsylvania State Tree!