Some leaves begin changing in mid to late August, but as the season progresses into September more and more trees begin changing color. Among the first to change are black walnut and its close, but much less common, relative butternut (photo on the right). These species tend to set leaves late in the spring and lose their leaves early in the autumn but they grow rapidly nonetheless. The leaves of both species normally turn pale yellow or tan and fall soon after.
Black, yellow and white birch leaves (below) also normally turn color early in the fall and also become yellow, but a much brighter yellow than either walnut or butternut. In our area, black birch is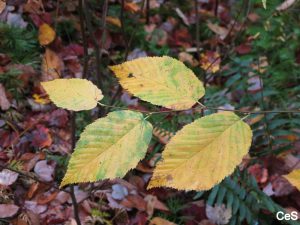 by far the most common of the birches, growing in both moist and dry sites and frequently seeding in on sites disturbed by logging or wind throw. Here, yellow birch is confined to cool moist sites, usually in deep valleys or high elevation wetlands. White birch is close to the southern limit of its rage in northcentral Pennsylvania where it is most commonly found as scattered individuals on ridgetops or where severe forest fires killed most other trees.