By, Susan Sprout
A rather unusual-looking plant got my attention recently, and I found out it has an unusual name as well. Three-seed Mercury sports three green seeds (yellow as they mature) in the middle of spiked bracts that have five to nine triangle-shaped pointy ends sticking out on all sides of them. These points must have resembled wing feathers thrust out because someone, somewhere named the plant after the Roman Messenger god Mercury who had wings attached to the sides of his shoes to hasten his travels! This native plant has the scientific name of Acalypha rhomboidea and is a member of the Spurge Family, Euphorbiaceae. A lot of the spurges are known for their milky sap. Three-seed Mercury stands out again as different for having clear sap.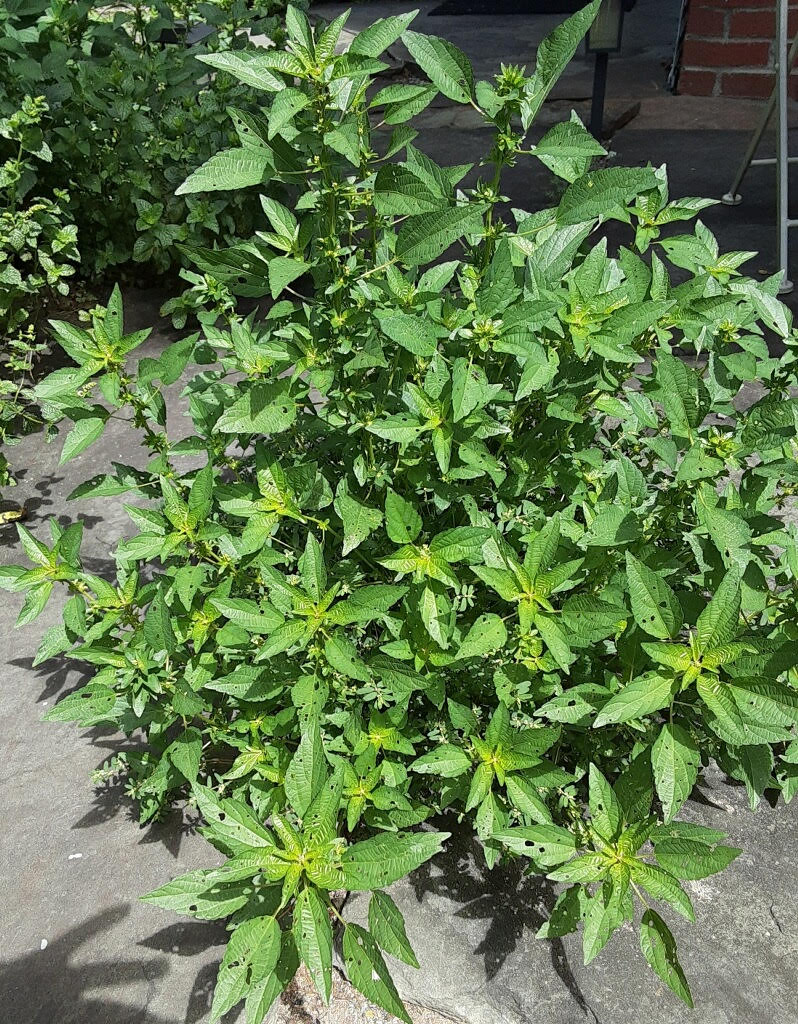 The stem of this plant is erect and can grow upwards from six inches to two feet, depending on conditions. It prefers disturbed areas and can tolerate clay and gravelly soils. That means, you can probably find some on roadsides, wooded slopes, field and garden edges and along railroad tracks. A straight taproot extends down from the woody-looking stem bottom which is wiry and difficult to break by hand. I checked out the lower stem and underground features as I weeded them. Being annuals, they were plentiful and growing near each other. Stem shapes are more rounded on the lower portions of the plants, but become more square towards their tops. An important identifying characteristic is the lines of hairs that curve inward on the stems, leaves and bracts. I needed a flashlight and a magnifier to detect their presence. I counted as many as five individual bracts of different sizes extending out of the plant stem above the individual leaf axils. Tiny groups of flowers on a single stem are attached to those bracts that will then hold the developing seeds. Once mature, those seeds fall off easily onto the ground. The birds love them, especially mourning doves. I had difficulty getting photos of the seeds nestled on the bracts. As I pawed through the foliage looking for mature seeds, I managed to dislodge most of them.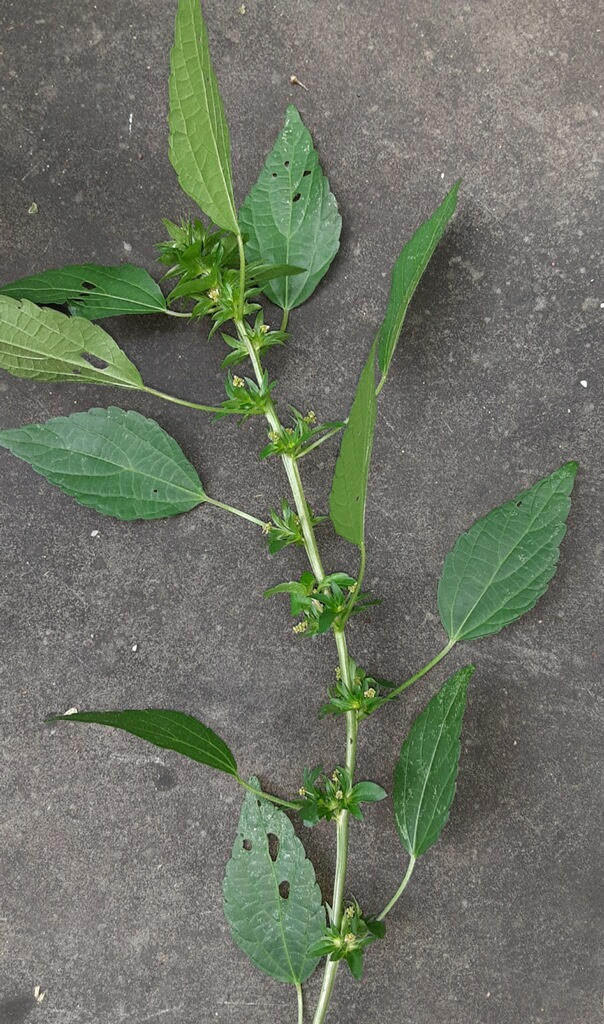 The shape of the plant depends on its age. Newer plants are a single stem with the leaves and bracts crowding the upper parts of the stem. As they mature, they bush out with many side stems growing from the main one and lots of alternating leaves and bracts. The leaves seem to stand out from the stem because their petioles are long, about half the length of the leaf. There is another species of Mercury growing in PA – Virginia Three-seed Mercury, Acalypha virginica. This plant has bracts with nine to fifteen hairy triangle points extending from them instead of just five to nine. I'd love to find one of those to see if the seeds fall off as easily when they mature, being surrounded by so many more points.