By Susan Sprout
No pun intended! Recent photos of snow-decorated Norway Spruce inspired me to learn more about them. And I did! I first checked the etymology of the word "spruce" and discovered it was an alteration of "Pruce" or Prussia known as "Spruceland." Evidently, they must have had a lot of European Spruce growing there. Masts of sailing ships were made from their large, straight trunks, and the best ones came from Prussia.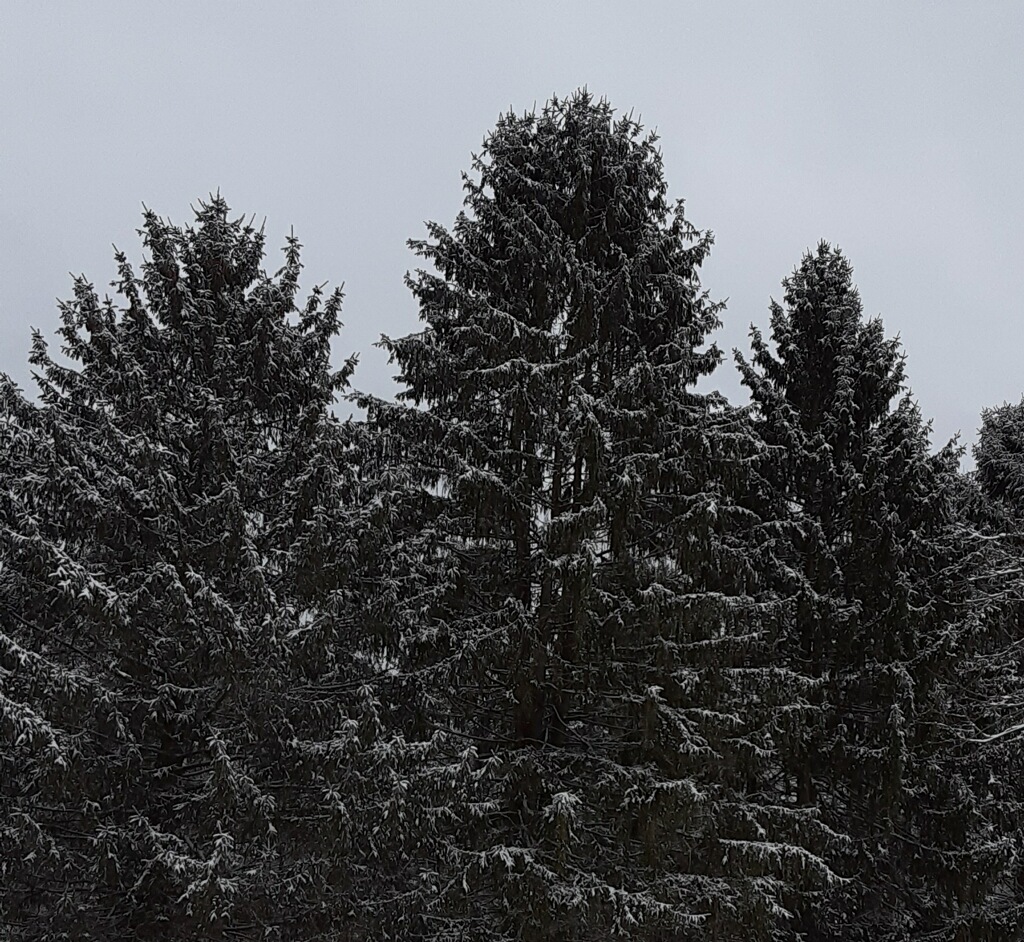 Prussia also had a great reputation for its leather goods. Folks in the 1400's wearing fine leather jerkins or jackets made in Prussia were considered "All spruced up." You can just imagine how that comment traveled and morphed in definition through the centuries to "looking neat and trim."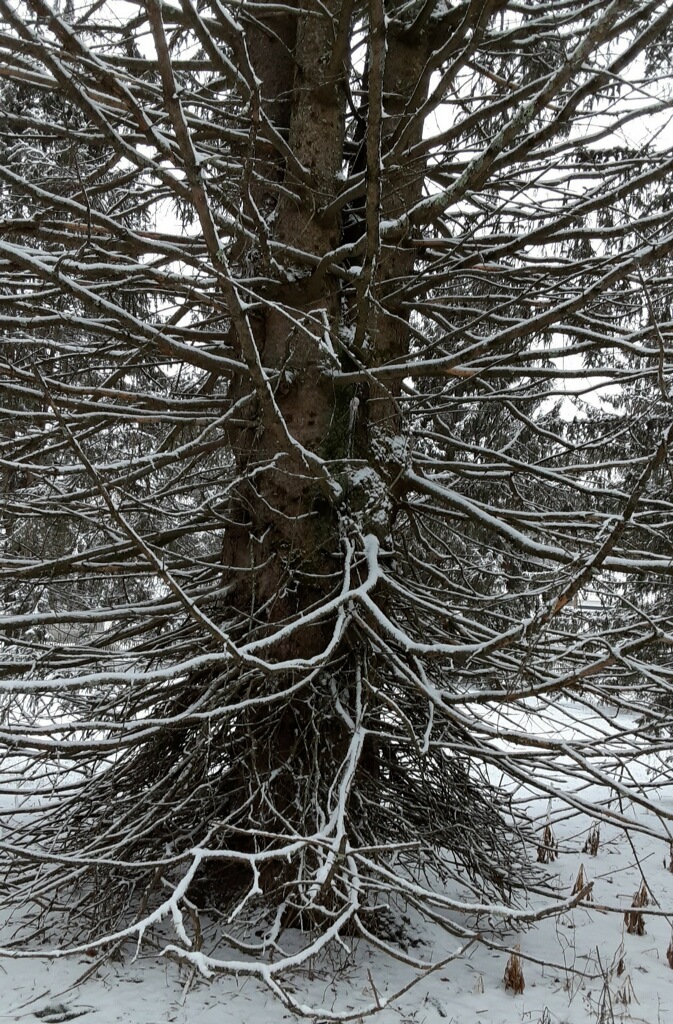 There seem to be a lot of Norway Spruces in our area. In the 1930's, one hundred million were planted by the Civilian Conservation Core as reforestation projects all across the vast open areas of the northeast that had been denuded by various lumber barons' business practices. Since then, many more have been planted as shade trees, shelter belts for wind protection, Christmas trees, and as plantations for lumber and pitch. There are more than one hundred and fifty different cultivars of Norway Spruce, many of them dwarfs for landscaping, when someone doesn't want a hundred-foot tree in the yard.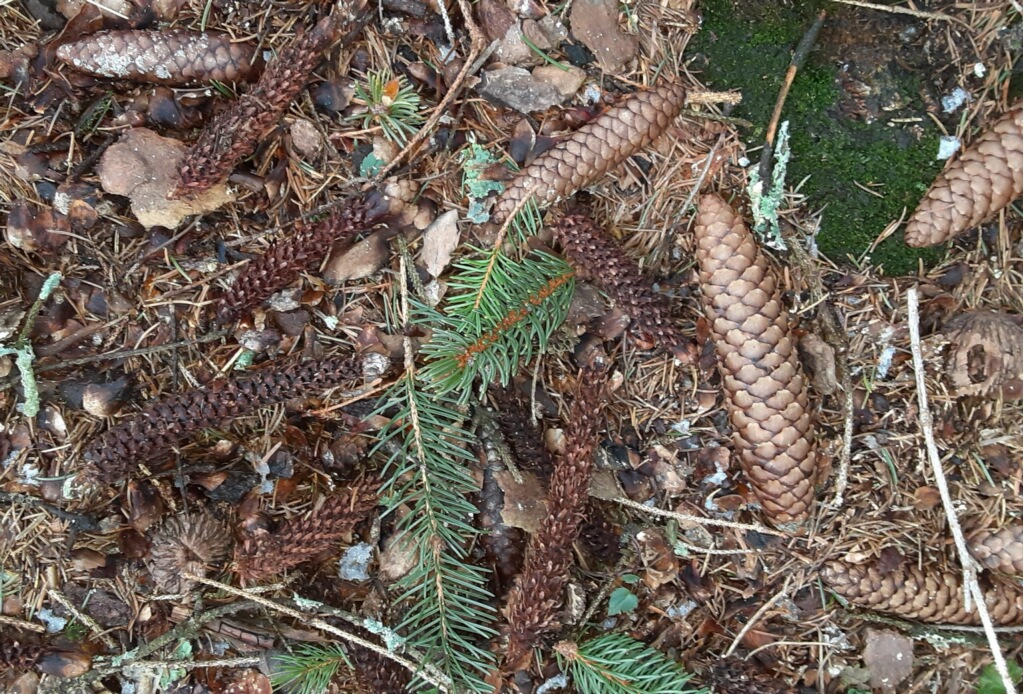 Norway Spruce (Picea abies) is an evergreen and cone-bearing member of the Pine Family, along with larches, firs, hemlocks, Douglas firs, and pines. It is not a native tree here, nor is it native to Norway as its name suggests. This species of spruce originated in Eurasia, the Black Forest, and other parts of the European continent way before moving into what is now the Kingdom of Norway, sometime around 500 BC, where it became the National Tree. Of the thirty-five species of spruce found in the northern temperate and boreal regions on earth, it is the most commonly planted tree in North America and Europe.
The growth habits of Norway Spruce can help with its identification – living in the deep woods or in town. Seedlings are fast growers during their first twenty-five years under good conditions, which would be humid and cool with moist soil. They have a striking pyramid-shaped crown of spreading branches which thins out as it ages. Twigs droop, and lower branches can dip to touch the ground, then tend to die off. The evergreen needles are four-sided, stiff, and sharply pointed (painfully sharp). The young twigs and needles of light green spring tips can be used to make Spruce beer and tea which can prevent and even cure scurvy caused by the lack of vitamin C. The bark is a scaly reddish-brown and exudes a very, very sticky resin called "pitch." That characteristic gave this tree its scientific genus name Picea from the Latin "pix." Seed production begins after thirty to fifty years of growth, in a life that can reach three hundred years in its natural range. Pollen-bearing pinkish male flowers are clustered along the stems. Green female cones are upright until they become pollinated, then hang down as they ripen and turn brown. Their mature cylindrical cones are the largest of all the spruces, averaging between four and six inches long. And red squirrels love to gnaw through the triangle- shaped scales of the cones and eat the protein-rich winged seeds inside.
As you can imagine, the wood harvested from Norway Spruce has many uses, from lumber to wood pulp. A  particularly interesting one is its use as tonewood in the crafting of musical instruments. Its stiff, but light, wood is good for soundboards because it gives a brighter sound vibration in violins, mandolins, guitars, harpsichords, and pianos. Its reddish-brown resin when purified is made into varnish, especially for those violins and other string instruments.