By, Susan Sprout
I like hikes during the winter months when so many of our green plants turn brown and yucky. Why? Because of the outstanding plants I can find out there that don't turn brown and yucky…like Yucca flaccida! This plant with the common names of Adam's Needle and Weak-leaf Yucca and Beargrass was originally classified in the Lily Family (long, floppy leaves), then the Agave Family (long, spine-tipped leaves). Finally, it has been placed in a sub-family (Agavoideae) of the Asparagus Family. What a family history it has! And, it is still green now and photosynthesizing on sunny days. Some references consider it a perennial, evergreen shrub that is native to the North American continent, from Ontario southward and distributed throughout the Appalachian Mountains from North Carolina to Alabama and into Central America and the Caribbean region. Ethnobotanists think its naturalization in such a wide area took place before the Europeans came here. Native people could have traded for it and planted it near their villages for its useful fibers and roots.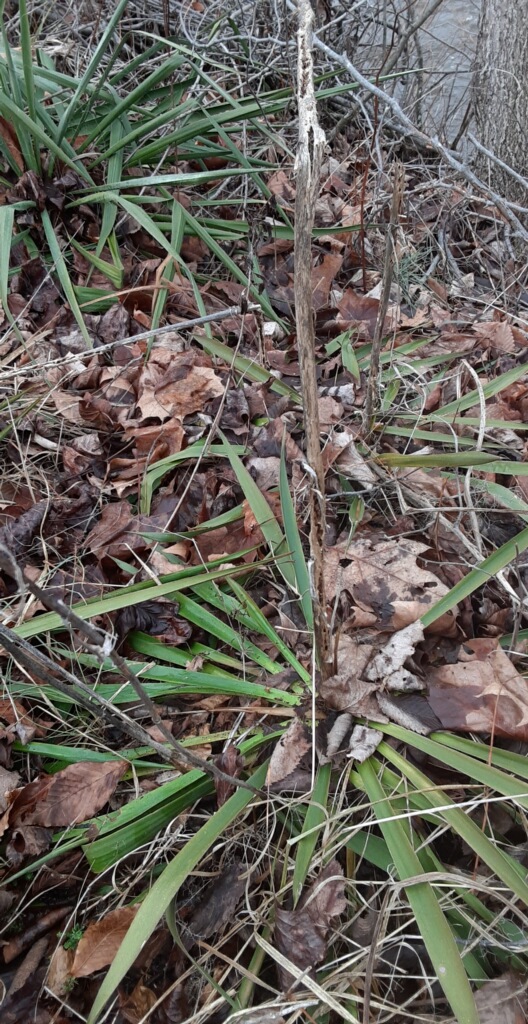 Adam's Needle has spear-shaped leaves with long, straight threads or filaments on their edges. And then, there's the sharp, pointed needle at the end of each leaf, waiting to poke the unsuspecting human or animal that backs into it. There are a bunch of other yuccas whose armament is bigger and stands up and out straighter that Yucca flaccida AKA Floppy Yucca. Its stems spread underground creating small colonies and seem to grow better where the soil is dry and sandy. I look for this plant near old homestead sites and places where locals tell me Native American villages once stood. This type of Yucca is pretty hardy, but it does not like too much wind or winter wet which can kill the very center of it.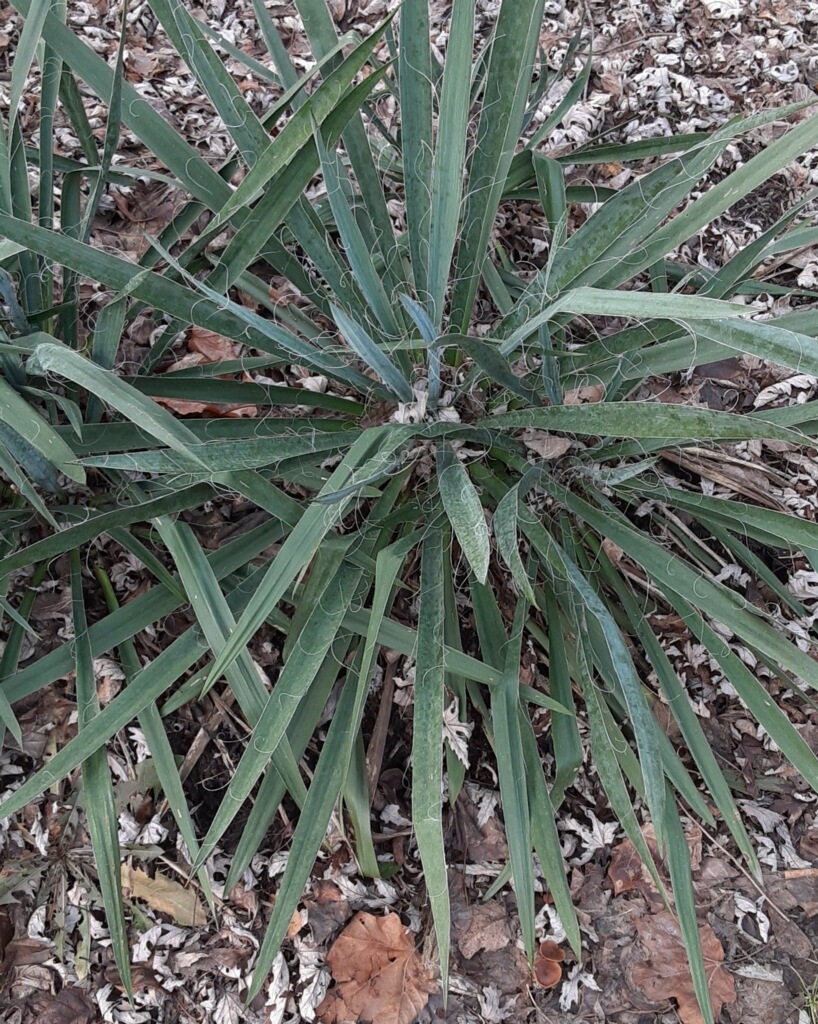 I still haven't found out why it's called Beargrass. They don't eat it – even deer won't eat it! Its roots contain toxic saponins, that when pounded and mixed with cold water, create soapy lather for bathing and laundry. Biologists believe the plant developed saponins as a defense against soil microbes and browsing animals. Yucca leaves soaked in water and pounded to separate the long fibers can then be twisted together to make ropes.

Look for this plant again in the summertime when it has a three to eight foot tall flower stalk filled with creamy white, bell-shaped blooms. You may be lucky to find some small white moths that seem to blend with the color of the flowers. They are White Yucca Moths that pollinate the flowers. According to the U.S. Forest Service web site, Yucca and Yucca Moths are so interdependent that one cannot live without the other.  As the natural range of the Yucca plants expanded, so did that of the Yucca Moths who desperately need to lay their eggs in the flowers' ovaries.  These plants have amazing stories. Not yucky, at all!