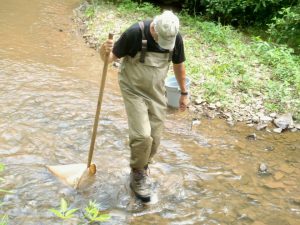 "March Madness" may refer to college basketball playoffs, but at NPC it's Macro Madness.
Macroinvertebrates are animals that don't have a skeleton inside their body and are big enough you can see them without a magnifying glass or microscope.
Macroinvertebrates, often just referred to as "macros," are one way scientists test water quality. Some macros can only live in clean water, some can live in water with a little pollution, and others can live in water with a lot of pollution.
Examples of macros are mayflies, stoneflies, dragonflies, scuds, snails, and leeches.
Macros are categorized based on how clean the water must be for them to live there. Some macros are more tolerant of sediment and pollution than others.
Here are some tolerant macros. They can handle living in polluted water, or water that has sediment in it.
Aquatic Earthworms (Oligochaeta)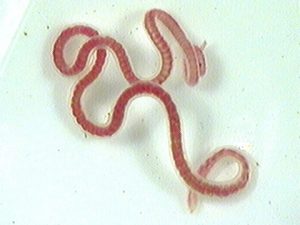 These worms are pollution tolerant, meaning they can live in polluted water. Their body is soft, cylindrical, and long – like the earthworms you find in your yard or on pavement after a summer rainstorm. The body is divided into many segments (usually 40-200).
Aquatic earthworms have a life span between several weeks to years. They reproduce sexually or by dividing their bodies. Mating usually occurs in the late summer to early fall.
There are about 10 different families of aquatic worms in North America. Aquatic earthworms are just one of the families. They live in lakes, ponds, streams, and wetlands.
Aquatic earthworms don't have suckers (leeches have suckers) or eye spots. They eat a lot of different things. They are detritivores (eat decomposing plant and animal material), algivores (eat algae), and predators.
Some aquatic worms are very tolerant of pollution (long red ones) while others are very pollution sensitive. The presence of high numbers of pollution tolerant worms at a site may indicate polluted conditions.
Midge Larvae (Chironomus)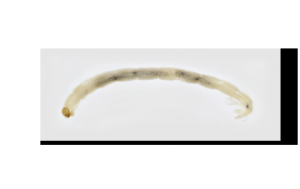 Midge Larvae are another pollution tolerant species. Midges are small insects that look like mosquitoes, but don't bite. Midges, like a lot of insects, go through various life stages.
When they are larvae that live in streams and rivers. That are usually on the bottom of the waterway in among the water plants or tree limbs or branches that have fallen in.
Midge larvae are important to many stream and river systems. Because of how much leaf litter and plant material they eat, the larvae help recycle nutrients in these systems.
Midge larvae are also a food source for other animals. Some of the organisms that feed on them include insects, fish, birds, and other aquatic invertebrates. Midge larvae are often most active at night in the dark, this provides some protection from predators.
The 4 life stages a midge experiences are the egg, larvae, pupa, and adult stages. There are stages within some of these stages as well.  During the larvae stage midges go through another 4 stages. The 4 larvae stages are known as 'instars', and can last anywhere from 2 weeks to 4 years.
Leeches (Erpobdella)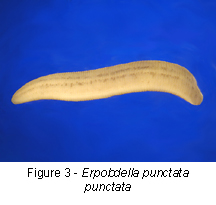 Leeches can live in polluted water. They are considered a pollution tolerant taxa.
Leeches are flatter than worms, but not completely flat. They have a slight rounding to their back, but are pretty flat on the bottom.
While some types of leeches have suckers and suck blood, Erpobdella leeches eat invertebrates smaller than they are. They do this by swallowing their food whole.
Leeches are most common in warm areas of the stream or warm streams. Generally this is the shallower areas. If the water isn't too deep, it's easier for the sunlight to warm up the water. In shallow areas the stream isn't usually moving as fast. Leeches like the slower moving water. They'll use the plants, stones, and sticks for shelter.