Ahhh, Thanksgiving! A whole day set aside to pause, reflect, and just appreciate what you have. As you celebrate with friends and family over the coming days, here are some simple, eco-friendly tips to help you show some gratitude for Mother Nature along the way: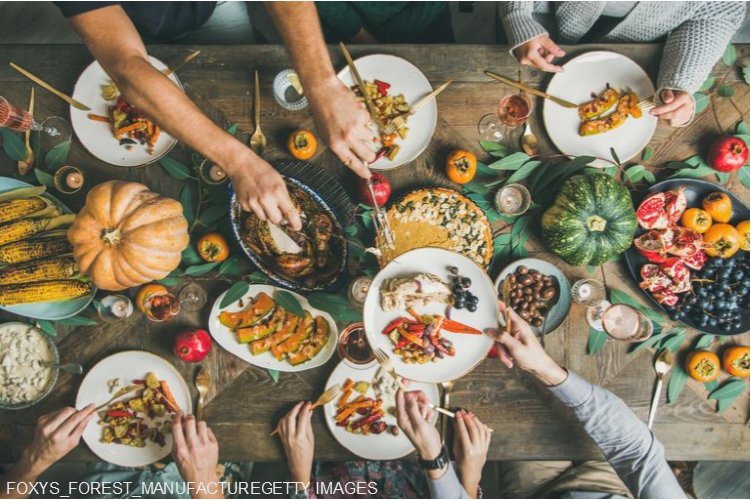 Buy local. When shopping for ingredients for your holiday meal, consider buying locally sourced food. Buying local helps support our rural economy and reduces the transit waste associated with shipping foods long distance.

Decorate with nature. Ditch the plastic and synthetic decorations. Instead, take a walk outside for tablescape inspiration. Collect pinecones, acorns, colorful leaves and twigs to use as decoration or adorn the table with seasonal gourds that can be sent home as gifts for your guests at the end of the night.
*Bonus idea: Get the kids involved! Send the kids or grandkids outside to collect and see what natural treasures catch their eyes.
Use the good the dishes and cloth napkins. While the ease of using disposable dishes and plastic utensils may seem tempting, they create a TON of waste. However, if you need to use disposable table settings, look for biodegradable or compostable options.
Reduce food waste. Speaking of compost, composting kitchen scraps can have a huge impact. When we throw away kitchen scraps or leftovers, we're throwing away all the water, fertilizer and fuel used to grow and transport that food. At a landfill, that food waste releases methane, a potent greenhouse gas. Strive to repurpose leftovers (perhaps in a creative new recipe) and/or compost scraps to recycle those nutrients back into the soil.
Shake off that post-meal drag by getting outside. Whether it's a hike through the woods, a walk around the block, or a game of flag football – finding ways to connect with each other while also connecting with nature: it's a win/win. Find trails here and #OptOutside this Thanksgiving.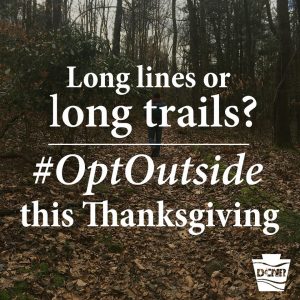 While Thanksgiving is all about gratitude, it's also inevitably the kickoff to the holiday shopping season. Here's some quick ideas to keep in mind as you prepare to check off your gift list:
Avoid unnecessary purchases. Buying less conserves our natural resources, reduces wastes in landfills, and lowers greenhouse gas emissions from manufacturing and shipping.
Buy gifts secondhand. Shop thrift stores and online marketplaces to give new life to gently used (and often unique) items.
Give the gift of time or experience, instead of products and gadgets.
Shop for gifts by local artisans and fair trade products.
Support your local land trust. You can help direct corporate giving to NPC while you shop this year, through Target Circle and Amazon Smile. You can also join the #GivingTuesday global movement by donating to NPC on December 3rd.
Strive to incorporate one or even all of these ideas into your Thanksgiving traditions this year, and Mother Nature will thank you too!