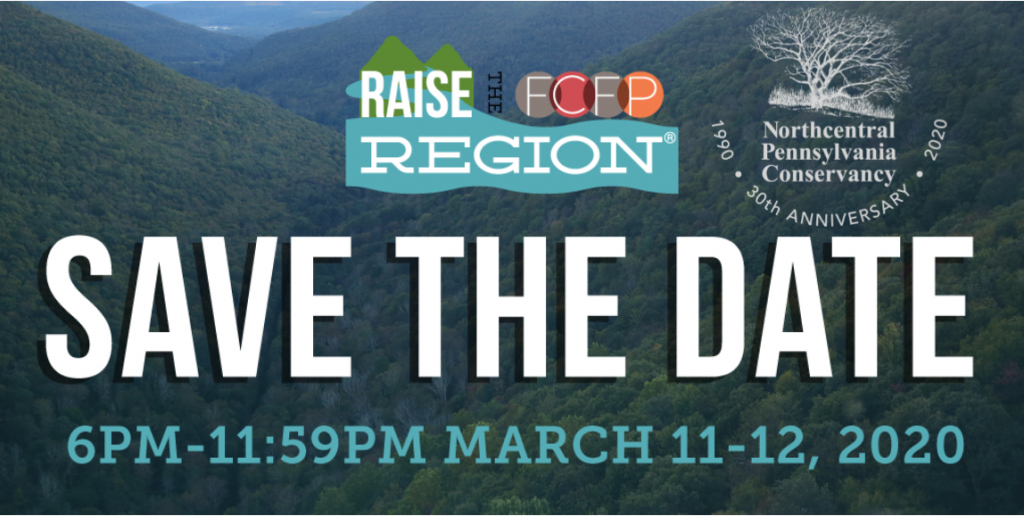 We're counting down the days to March 11 – 12 and Raise the Region!  This annual 30-hour giving campaign is an opportunity for you and your fellow community members to come together to show your support for the local nonprofits serving north central Pennsylvania. 

Here at NPC, we've been proud to serve as your local land trust for the past 30 years!  The foresight and generosity of NPC donors throughout these years has helped conserve the landscapes and improve access to some of the region's most beloved outdoor destinations – such as the Pine Creek Rail Trail, Loyalsock Trail, and the Susquehanna River – just to name a few! 

These natural treasures are now a gift that can be passed on for generations to come, thanks to donors like you.

We invite you to continue this legacy and help celebrate NPC's 30-year history of conserving the land we all love, by supporting NPC during this upcoming Raise the Region event.

Here's a few ways you can help:
Get ready to give! You can help NPC surpass our goal of $5500 by donating during the campaign. On March 11 – 12, starting at 6PM on March 11, visit www.raisetheregion.org and make a donation to Northcentral Pennsylvania Conservancy. You will have 24 hours to make your donation, and all giving will end at 11:59PM on March 12.
Help us spread the word! Helps others learn about NPC by sharing this email and upcoming Facebook posts about the campaign. Ask others to do the same.
Become a fundraising champion. Sign up to become a fundraising champion to help drive people to our Raise the Region profile on March 11 – 12. Contact Holly for more information.